It is our great pleasure to announce that our client, Yardstick, has been recognized as one of Canada's 10 Most Admired Corporate Cultures for 2014.
This national award program, which is in its 10th year, recognizes best-in-class Canadian organizations for having a culture that has helped enhance performance and sustain a competitive advantage and issues awards in 4 different categories: Enterprise, Mid-Market, Growth & small cap, and Broader Public Sector. Yardstick is a winner in the Small-Cap category.
Since Yardstick's inception in 2005, the company has managed to grow from a small training and testing software business into Canada's leading full service testing and training company. Today Yardstick has two Canadian offices, over 60 employees, hundreds of clients, and millions of software users from all over the world.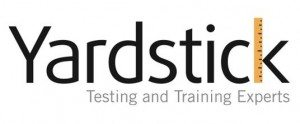 "Yardstick is defined by its people and culture. Our success and achievements have been directly linked to our organization's commitment to our core values and our employees ability to embody those values in everything they do," says Dianne Riep, Yardstick's Manager of Talent and HR.
From the entire Results Canada team we congratulate Yardstick and we are so very proud of your accomplishments.