Service and product differentiation underpins your firm's strategic position. It is aligning your company's unique strengths with your ideal target customer needs and preferences and should inform all marketing and communication activities.
Accelerating Out of the Turn
We've created a six-part blog series called "Accelerating Out of the Turn" outlining the key elements leaders need to think about in the first half of 2021 to capitalize on the upcoming economic relaunch. Today we'll be continuing onwards with step 2 with all 6 acceleration steps being covered over the next few months: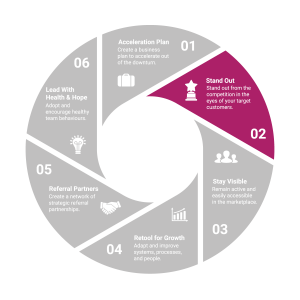 1. Acceleration Plan– Create a business plan to accelerate out of the downturn.
2. Stand Out — Stand out from the competition in the eyes of your target customers.
3. Stay Visible — Remain active and easily accessible in the marketplace.
4. Retool for Growth — Adapt and improve systems, processes, and people.
5. Referral Partners — Create a network of strategic referral partnerships.
6. Lead with Health & Hope — Adopt and encourage healthy team behaviours.
If you haven't read the first step, we recommend reading Accelerate with a Strategic Business Plan [Accelerate Part 1] before continuing on with step two.
Step 2: Determine Your Product Differentiation & Unique Offer
John Spence states that "all effective strategy is just: "Valued Differentiation X Disciplined Execution."
It is difficult to understate how big a role differentiation plays in competitiveness. Without it, similar products degrade to commodity status where it becomes a so-called "race to the bottom" and the price leader wins.
"A product for everyone is a product for no one." – Seth Godin
By contrast, products that are perceived to have a difference can be priced differently; consider the range of price tags in offerings like coffee or automobiles.
Your firm must decide what its differentiators are and how to lead. Ask, what are the one or two characteristics we can focus on and be better at than our competition?
If you're not sure, a great place to start is to listen to the voice of your customers:
What are their fears, concerns, and insecurities?

What frustrations they have with your offerings?

What trade-offs or compromises do they have to make when buying from you or your competitor?

What seems inefficient or less than perfect?
Second, revisit your target market and ideal customer definition. Is what you offer a perfect fit for them?
Sometimes taking the lead in a smaller segment of the market can provide higher margins and profitability. Buyers today want to work with providers who focus on customers "just like them." Good examples of product differentiation include financial planners who only work with doctors, insurance providers that only insure seniors, or real estate agents that focus on specific neighbourhoods or types of properties. All of these services differentiate themselves by focusing on a smaller segment of the entire market.
Product differentiation does not always necessarily come from the product or service itself. For instance, a company can lead with a differentiated buying experience. Amazon makes it easy and convenient to shop from home, even though the products are often identical to those available through traditional retailers. Likewise, computers made by Dell were arguably very similar to the other offerings available at the time the company began, but Dell's buying experience that allowed customers to personally configure each system before it was built was what set the company apart.
In Season 2, Episode 2 of our Unleashed Series, Gerry O'Brion gave an example from the auto industry saying, "many people fear buying a car from a dealership – the risk of paying too much, buying the wrong vehicle, and having to deal with multiple people at the dealership." Through an investigation into customer fears, the dealership Schomp was able to address these fears with a One Price, One Person, One Hour brand promise, and experienced significant growth as a result.
As Seth Godin says, "a product for everyone is a product for no one." As you accelerate out of the turn, what's your unique value proposition, how is it differentiated, and are you expressing that clearly to the marketplace?
Acceleration Readiness Assessment
Do you have a clear definition of your target market or ideal target customer?

Does your brand stand out as different when compared to your competition in the eyes of your target customers?

Is your unique value proposition stated simply and consistently in your marketing messaging?
Next Steps — Planning Your Product Differentiation Strategy
Are you ready to grow in 2021? We can help. At Results, we're here to help you grow your business, your leadership team, and yourself. Let's connect for a chat.
Eager to start today? Start by downloading our free guide to the 6 Essential Steps to Accelerate Out of the (Down) Turn.