Jim Harris is one of North America's foremost management consultants, public speakers, authors and thinkers on change and leadership. He has 20 years experience as a professional speaker and consultant, and speaks internationally at more than 40 conferences a year on topics including innovation and creativity, customer relationship management (CRM), eLearning, creating learning organizations, environmental leadership, energy efficiency, strategic planning, and creating common organizational mission and vision
Jim's most recent book, Blindsided! is a #1 international bestseller, having hit the top spot on the Financial Times of London's European Edition of Best Business Books. He is also the author of The Learning Paradox, which appeared on numerous bestseller lists, and is co-author of The 100 Best Companies to Work for in Canada. He also writes for several publications, including The Globe and Mail, Profit magazine and Backbone magazine
Digital Transformation
As human beings, we are generally uncomfortable with learning, change and uncertainty. Ironically, in current times these are exactly the things we need to be good at. "We need to get comfortable being uncomfortable."
Digital transformation across all industries is the future. According to research, 88% of business leaders think digital transformation is important, while only 22% have a formal process.
There are many examples of how innovation-oriented companies are winning and disrupting traditional industries. For instance, Amazon today is valued at US$1.3 trillion, three times that of their eight biggest rivals combined. Walmart is number two in retail and has made some strides recently but is still a long way behind.
COVID has highlighted and widened the gap between traditional and digital firms. Zoom, for example, has seen massive growth, going from an average of 10 million users per month in December to 300 million today. Logitech and other firms that provide products for remote working and meetings have seen similar growth.

How to Embrace Innovation
Jack Welch, long-time CEO of general electric was not familiar with the internet when it was in its infancy 30 years ago, but he did recognize his ignorance and admitted his shortcomings. In response, "he hired a group of 20-somethings to come in each week and tutor him" about this new technology. By doing this, Welch embraced the first rule of leadership espoused by Stephen Covey: "The first virtue of leadership is humility." As leaders, we need to admit that we don't have all the answers and we need to look for help.
The second element, Jim says, is we need to engage younger people in our planning, specifically Gen Z and Millennials. "Young people are closest to the future, but most strategic planning is done by those later in their careers." Jim suggests forming a shadow board of younger people to approve major strategic moves.
Further, the greatest source of innovative is close by. Our employees are a significant yet often untapped source of new ideas and improvement.
Thirdly, much of our innovation funding and attention is focused on new products. Jim believes the biggest opportunities are in business model innovations, new ways to deliver the same products and services in different, less expensive ways. Uber is a great example of this, delivering the same service as taxi companies but in an easier (mobile-enabled) and less expensive way (ride-sharing private vehicles). He predicts Uber isn't done yet; imagine Uber Liquor, Uber Pets (get your pet to the vet), and even Uber Weed here in Canada.
Lemonaid is another example, a New York-based tenant and renter insurance company, that uses AI and mobile to assess and respond to claims almost instantly for their customers. Traditional insurers often take weeks or months to assess a claim, weighed down by outdated processes and paperwork.
Finally, getting started with digital transformation doesn't need to be expensive. Making use of university student internships or even crowdsourcing information (like Wikipedia does) are great ways to explore new ideas. As Jim has cautioned us in the past, we need to beware of our own corporate inoculation systems which often try to work against innovation: hierarchical decision making, low tolerance for mistakes and risk, and even just fear of change.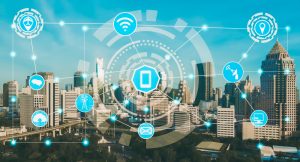 Jim walked through many other examples for us. The auto industry, for instance, is being disrupted by electric vehicles which he predicts will be cheaper to buy in the next three years (they are already cheaper to run). This industry will see a second wave of disruption as autonomous vehicles become viable and approved. He also predicts significant changes in training and development, agriculture and food production just around the corner.
Take Your Business to the Next Level
At Results we care about your success, we understand how overwhelming it can feel to run a business, and we're here to help. Reach out to Nicole through our contact form for ways to unleash the potential of your business.
Visit the Unleashed Podcast Library where you'll find exclusive conversations with world-class thought leaders, authors, and leadership experts.
Each episode of Unleashed is hosted by Results' CEO Jeff Tetz who spends most of his day exploring what makes high performers tick and helping build a community of leaders who want to learn and grow together. Follow Jeff (Twitter; LinkedIn; Instagram) for more great leadership insights.