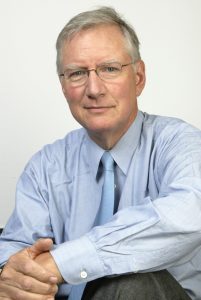 Today on Unleashed we welcome legendary business thought-leader, Tom Peters. Over the last 40 years, Tom has authored 17 books, delivered 2,500+ speeches in 50 states and 67 countries to more than 5,000,000 people. He's been called the Red Bull of management thinkers and in November 2017, Tom received the Thinkers50 Lifetime Achievement Award.
Tom has had a huge impact on our business here at Results. His quote, "execution is the missing 98%" is one of our founding beliefs. We actually delivered executive workshops titled The Missing 98 in honour of Tom and his work.
Excellence 2020
Tom began the discussion by elaborating on a recent letter to his followers titled, Twenty-Seven Number Ones. It is his top ideas and beliefs about business and life – his coda for success.
Excellence, he states, isn't about elaborate plans and strategies. It's about what we do right now – our behaviours, focus, attitudes and attention – in the next five minutes. This is really all we can control in an uncertain world, and these moments define us. It sounds cliché, but excellence is not a destination, it's a journey.
In one of his books, The Little Big Things, Tom speaks about the dozens of interactions we have with people each day. The opportunity we have to be truly present in the conversations or take an extra minute to ask someone how they are or to wish them well. Simple courtesies can make a big difference. As Henry Clay states, "Courtesies of a small and trivial character are the ones which strike deepest in the grateful and appreciating heart."
Tom spoke about the difference between resume virtues and eulogy virtues (see David Brooks book, The Road to Character). These labels are self-explanatory, but he suggests that what really matters are our eulogy virtues. These virtues are built one human interaction at a time. On New Year's Eve this past year, Tom tweeted, "Make 2020 the Year of Eulogy Virtues"
Another part of excellence is having a bias for action. "This goes back to In Search of Excellence in 1982." Excellent companies are those that have a bias to act and just do something, not necessarily waiting to figure out the perfect action to undertake. "In so many companies there is too much talking, planning, decision making, report writing, and not enough doing. I've never had a plan for anything."
Tom mentioned his friend Herb Kelleher, who passed away last year. Herb founded and lead Southwest Airlines and one of his famous quotes was simply, "our strategy at Southwest is doing things." Tom feels this is relevant to companies of all sizes.
Leadership
Tom didn't pull any punches when asked about leadership. His belief is that our unmistakable role as leaders is to take care of our people, and we should be willing to make any personal sacrifice to do so. He defines an organization as people (leaders) serving people (employees) serving people (customers). "The best way to take care of customers is to take care of your employees."
The top item on Tom's twenty-seven list is training. Unfortunately, accounting standards track training costs as an expense, not an investment. "Is training important?" says Tom, "just ask a fireman, a police officer, military personnel, or the manager of a nuclear plant. In these roles, it's non-negotiable. But in business, we don't look at it that way."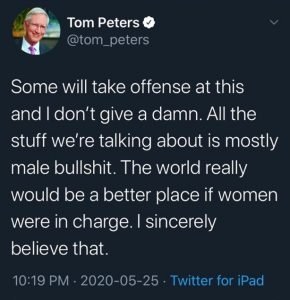 One of the best ways we take care of our people is to help them develop to their full potential. As Hollywood director Robert Altman said in his Oscar acceptance speech, "the role of the director is to create a space where actors and actresses can become more than they have ever been before, more than they have ever dreamed of being."
Tom went on to argue that empathy is foundational for leaders, and essential if we are going to take care of and develop our employees. "Hire for all jobs based on empathy. Employ people who care about people; everything else can be trained. And frankly, study after study tells us that women are better at empathy than men."
Tom has long been a champion for women in leadership, and for so long women have been discriminated against in business and society. He suggests that our businesses, and our world, would be a much better place if we had more women in leadership positions.
Tom's personal journey
"I don't like successful people who think they deserve their success. There is so much luck involved." Tom mentions this to highlight the fact that we often underestimate the luck factor when we look at successful people and businesses.
He sees this in his own career. When David Letterman asked Tom about his success many years ago, his number one reason was, "choose your parents with great care." This humorous response emphasizes how much he understands that he didn't earn his good fortunes and blessings: being born in 1942 in the United States near the close of World War II, a white, protestant male with intelligent parents are just some of those.
Mistakes? When asked about mistakes in his life Tom took a few moments to consider the question. And then, in a clearly emotional response, he said, "my biggest failure, twice, was paying too much attention to work and not enough attention to my spouse and my family. And I'm not happy about those decisions."
So much more
Here we've only touched on a few of the dozens of gems and useful anecdotes that Tom shared with us today. Many are mentioned in his Twenty-Seven Number Ones and the Leading in Troubled Times posts available online. We are so delighted and grateful he took the time with us today. You can also pick up Tom's latest book The Excellence Dividend HERE on Amazon.
You can view the entire Unleashed episode below. Further, if you are interested in this and other topics, you can watch all episodes of Unleashed by subscribing to our YouTube Channel.
Here at Results, we care and we're here to help. If you would like to discuss these or other approaches we have to help you be a better leader and unleash the potential of your business, please reach out via our contact form.