Do you live a life without regrets, or do you wish you could have a "do over?"
Most people have regrets, according to Dan Pink's research.
There is a right and wrong way to deal with them to maximize benefits for you personally and for your organization.
Actions You Can Take Right Now
Eliminate ignoring or wallowing in regret.

Regrets have many benefits

if we know how to process them.

Don't be ashamed of regrets, it's part of the human condition.

Recognize, share, learn and change because of them.

Connection regrets (losing touch or not fostering a relationship) is the most common type of regret and can often be fixed.

"When in doubt, reach out."

Leaders should model the way

for their people by showing how to constructively confront and learn from regrets.




View or listen to this and other past episodes on the Unleashed Podcast Library
Episode Highlights and Excerpts
Dan was motivated to write a book on regrets because he had a lot of them himself. Then when he started speaking to people about the idea, they seemed to want to talk about it too.





There's a perception today that we should always be positive & have no regrets. But

regrets can be teachers if we process them correctly

, rather than ignore them or wallow in them.





Dan was surprised by how willing people where to share their regrets in researching his book. Only 1% of respondents said they had none, and

there was great similarity of regrets across different cultures and geographies

.





Regrets can be grouped into four flavors:

Foundation Regrets

– "I wish I'd … (done the work, gone to university, worked out more, etc.)" This is the recognition that small decisions in the past have big consequences now.

Boldness Regrets

– "If I'd taken a risk on … (asking that person on a date, starting a business, making that investment, etc.)

Moral Regrets

– "I wish I'd done the right thing, taken the high road, in that situation."

Connection Regrets

– "I wish I'd kept in touch with (spent more time with, invested more in the relationship, etc.) that friend or family member."
Dan recommends a

four-steps process for confronting and learning from our regrets

:

Inward

– frame the regret internally and recognize that the self talk we always use about ourselves is generally more negative than the reality. Everyone has them, it's part of the human experience.

Disclose

– write or talk about your regrets.

Externalizing regrets moves them from abstract to concrete

and usually the humility is welcomed by others with grace and forgiveness.

Extract Learnings

– regrets are teaching us valuable lessons. Often, something that we regret doing (active) or not doing (inactive) tells us about our current values.

The self-criticism means how we acted then is not in line with our values today.

Plan

– armed with the new learning, we can plan what to do differently going forward.
The most common category of regret is Connection Regret. Often this can be remedied by reaching out to the person we've lost touch or relationship with. Dan's mantra is, "if in doubt, reach out."
Take Your Business to the Next Level
At Results we care about your success, we understand how overwhelming it can feel to run a business, and we're here to help. Reach out to Nicole at info@UnleashResults.com or through our contact form about ways to unleash the potential of your business. 
 Subscribe to the Unleashed Calendar & never miss a conversation. If you can't make the live stream, visit the Unleashed Podcast Library where you'll find exclusive conversations with world-class thought-leaders, authors, and leadership experts. 
 Each episode of Unleashed is hosted by Results' CEO Jeff Tetz who spends most of his day exploring what makes high performers tick and helping to build a community of leaders who want to learn and grow together. Follow Jeff on Twitter for more great leadership insights.
Access the Full Episode Your Way
Click the logo below to subscribe to your favorite platform and never miss another episode recording. Remember to subscribe to your favorite channel and be the first to know when new conversations are available.
Dan Pink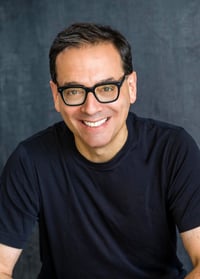 Daniel H. Pink is the author of five New York Times bestsellers, including his latest, The Power of Regret: How Looking Backward Moves Us Forward, which is available now.

His other books include the New York Times bestsellers When and A Whole New Mind — as well as the #1 New York Times bestsellers Drive and To Sell is Human. Dan's books have won multiple awards, have been translated into 42 languages, and have sold millions of copies around the world. He lives in Washington, DC, with his family.
For more details visit Dan's bio on his website.