Today on Unleashed, we are joined by Wayne Baker, the Robert P. Thome ("toe-may") Professor of Business Administration and Faculty Director of the Center for Positive Organizations at the University of Michigan Ross School of Business. His teaching and research focus on social capital, social networks, generosity, positive organizational scholarship, and values. His latest book is All You Have to Do Is Ask: How to Master the Most Important Skill for Success, which was published earlier this year. He is a co-founder and board member of Give and Take, Inc., developers of the Givitas collaborative platform, based on principles in his new book.
He earned his PhD in sociology from Northwestern University and was a post-doctoral research fellow at Harvard University. He resides with his wife, son, and Birman cat in Ann Arbor.
The Opportunity in Asking
The inputs or capital we need to be effective in work and life fall into two categories. We have our human capital – what we know, the experiences we have, our skills – but also our social capital. Social capital is who we know, or relationships and networks.
People don't ask for help as often as they should and it's a missed opportunity. Wayne's research shows that people who are frequent askers (and givers) are the most productive in the workplace, and organizations that encourage asking are the most successful. But why don't we ask for help? There are many reasons including what Wayne calls "over-reliance on self-reliance", fear of being seen as incompetent or weak, or just assuming that we'll get "no" as an answer when we ask, so why bother.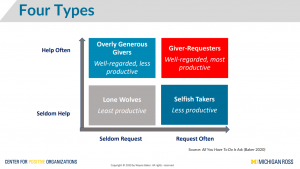 In fact, the research proves the opposite. In one study done in New York City, subjects were asked by researchers if they could borrow a cell phone to make a call. Surprisingly, it only took 1-2 asks on average to get a stranger to say yes to the request.
Further, we sometimes assume that if we've asked someone before and received a "no", then we are likely to get a know again. Once again, the research says the opposite; people who have said no to us in the past are then more likely to say yes to the next request.
Mining the Social Capital
Our relationships with others, our networks, can be considered in three categories:
Strong Ties – people we have a lot in common with, spend a lot of time with and share a lot of the same information and opinions with. Most people only maintain up to 150 of these.
Weak Ties – people who are more acquaintances or that we've had little interaction with, including those from other countries, cultures, backgrounds and experience sets. This includes people we don't know well but we have mutual connections in common.
Dormant Ties – relationships we had that may have been strong in the past, but haven't been for a while.
Of these, we are most likely (and comfortable) asking for help from our Strong Ties, when in fact the Weak and Dormant Ties have the greatest potential for new information, ideas, opportunities and perspectives, and as individuals we should be proactively asking in these circles.
It may be obvious, but the most productive givers are also the most productive askers. The law of reciprocity plays an important role in build our social capital networks.

How to Ask
Wayne provided a process for creating thoughtful requests which is proven to be an effective approach to getting the most out of asking.
Be clear about the goal of the ask.
Think about what resources could help provide the support or solve the problem – advice, ideas, people, money, etc.

Thinking about who is part of this; who can we ask who might know a person who has the answer? If you target someone who you think is an expert that you don't know, you may find someone else you know in common.

Formulate a SMART request – be…:

Specific to what you need,
Meaningful by describing the reason for the ask (the why),
Action focused by clarifying the task,
Realistic in the request, avoid being too outlandish, and
Time-sensitive by being clear about the deadline.
We have tools now, online communities, that enable us to ask more than ever before. To fully leverage these we should be givers as much as takers in these communities.
As well, be sensitive to who we are asking and recognize that different people want to communicate in different modes – phone call, zoom, meeting, email, etc. Also, be aware of what's going on in other people's lives that may limit their ability to give.
Creating an Asking Culture
Many organizations have taken this research and instituted specific processes to encourage a more asking-giving culture. One economic consulting firm that Wayne described as a "20-minute rule." When faced with an issue, problem, task or project, an employee has only 20 minutes to deal with it before starting to ask for help.
Other ideas include:
The weekly Stand-Up meeting where every person shares what they are working on, what success they've had and MUST proclaim where they need help.
When people are reluctant to respond privately, consider asking publicly; the research says the likelihood of the giver providing the help is higher.
Experiment with the Reciprocity Ring concept which Wayne and his colleagues pioneered, and which is now embedded in a new mobile app called Givitas.
For busy people, schedule time to handle incoming requests by using disciplined time-management techniques.
Like many elements that drive organizational change, leaders play a critical role. Leaders are the catalyst for instituting these processes and modelling the behaviours they'd like to see in others. And during the global pandemic, people are feeling more isolated and lonelier, and are even less likely than normal to ask for help. Leaders can address this by being more deliberate about keeping in touch with their teams.
Take Your Business and Leadership to the Next Level
We'd love to connect – if you would like to discuss the ideas presented today, please reach out via our contact form or on social media
You can learn more about Wayne's work via his website, and for reference here are the slides he showed during the show. If you are interested in similar topics to today's, please be sure to subscribe to our YouTube Channel.
Did you know you can listen to Unleashed as a podcast? Visit the Unleashed Podcast Library for a full list of past episodes.
Each episode of Unleashed is hosted by Results' CEO Jeff Tetz who spends most of his life deeply caring for others, exploring what makes high performers tick, and helping people unleash their full potential. You'll find Jeff on twitter here.