In this opening episode of Season 2, Jeff speaks to Michelle Anne Johnson, a communication consultant that helps leaders and teams become influential speakers so they can maximize key opportunities, make a greater impact, and inspire action. She's an accomplished Hollywood actress who has performed everything from Shakespeare to stand-up comedy and has guest-starred in numerous top TV shows, including "Friends", "CSI", and "Modern Family."
As a consultant, she has worked internationally as a facilitator and executive speaking coach. She specializes in helping leaders at all levels prepare for high-visibility presentations and keynotes. Her passion is helping people find joy in sharing their voices.
When Jeff asked Michelle how she got into this line of work, she explained that leadership and acting brings together many of the same talents: resilience humility, grit, preparing quickly, sticking with passions during adversity and getting comfortable with uncertainty. Do any of those sound familiar in our current times?
Spotlight Moments
For actors, there are many of what Michelle calls, "spotlight moments" – times when all eyes are on you and you have an opportunity to inspire and move your audience. Actors prepare and rehearse endlessly to get it right, but leaders don't. We tend to 'wing it', rationalizing that we spend all their time communicating anyways, so how is this different? Spotlight moments are different and require an explicit and disciplined approach.
Michelle shared a three-part process for preparing for a spotlight moment of any kind and for any size audience:
Message – knowing the content you want to get across.
Delivery – the non-verbal elements that will support the message.
Charisma – the element that makes your message credible, inspiring and ultimately influences others.
She argues that leaders almost never think about charisma, and that is a missed opportunity (more on charisma below).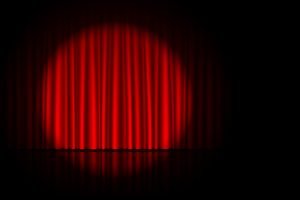 Spotlight moments can be stressful, and even veteran communicators get some amount of "stage fright." Self-doubt and fear of rejection can sneak in due to uncertainty or lack of control. In these situations, our amygdala hijacks us and can undermine our behaviour. Spending time preparing can eliminate much of the stress.
Crafting the Story
Human beings are wired for story. We are moved because stories speak to us beyond just the facts; stories touch our feelings and emotions.
Therefore, Michelle suggests that our communications and presentations should be structured like a classic storytelling framework. A hero in their current state (Old State) faces a problem (Obstacle) and must go on a journey (facing villains and roadblocks along the way) to find a solution (Resolution) and ultimately reach a New State with its inherent benefits.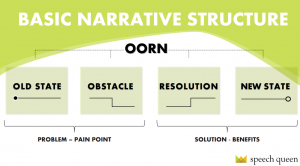 Presentations and messages structured this way will naturally resonate with people more easily. Remember that influence means getting people to DO something differently, so always begin with clarifying what you want your audience to start, continue, or stop doing. Don't start planning with what you want to say, start with what you want to influence people to do.
Developing Charisma
A message is only as good as its messenger, and in order to influence people, we must have charisma. Charisma is not about being the loudest person in the room, or the smartest, or the most well-spoken. It has more to do with our personality based on three elements – Authenticity, Purpose, and Confidence.
Authenticity is our ability to be our whole self. It requires reflection on and clarification of our own strengths and life experiences, being willing to "know and show" our true selves. Our personal narrative and lived history defines who we are.
Purpose defines the "why" of our lives, our organizations or the interaction we are having with our audience. It goes beyond just the 'what', or the objective, of the message to a broader rational for why we are doing what we do, communicating what we are communicating, and trying to mobilize our audience to change behavior.
Confidence is a personal belief in our own abilities; the key word being "belief". Many people are under-confident (some are over confident) because of feedback they've received in the past from bosses, colleagues, parents or other family members. It's easy to be overly critical.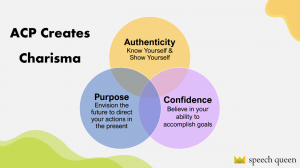 Interestingly, each of the three elements of this model reinforces the others. For instance, the more authenticity we have, the more confidence we have, and so on.
Take Your Leadership to the Next Level
At Results, we care and we're here to help. This Unleashed Series that we launched back Launched in April 2020, Unleashed has given us new information and insights, and led us to develop the Leadership Toolkit Workshop series, the first of which starts in October. If you and your team would like to enhance your skills as leaders, please check it out (contact us for other dates too).
Further, if you would like to discuss the ideas presented today, please reach out via our contact form or on social media.
You can view the entire Unleashed episode below, and here you can download the slides that Michelle shared HERE and learn more about her at her website Speech Queen.
If you are interested in this and other topics, you can watch all episodes of Unleashed by subscribing to our YouTube Channel.
Each episode of Unleashed is hosted by Results' CEO Jeff Tetz who spends most of his life deeply caring for others, exploring what makes high performers tick, and helping people unleash their full potential. You'll find Jeff HERE on Twitter.