Most employees want to do a good job, be valuable, and have an impact. Yet in many companies leaders don't foster Impact-Player traits. This leads to disengagement and poor results. Leaders must recognize, develop, and support their Impact-Players.
Liz Wiseman is a world-renowned expert in organizational leadership. Her career spanned more than a decade as a leader at Oracle. She was mentored by Kelly Patterson, co-author of Influencer and Crucial Conversations, and is now the author of many books herself including Impact Players.
Actions You Can Take Right Now
Recognize, recruit, and foster high impact employees. There is significant untapped potential in organizations. Most people want to have impact and do meaningful work but aren't supported in doing so.
In any delegation situation, both parties need to clarify the deliverables. Ask, "what does a great job look like?" and "what does 'done' look like?"
A leaders' behaviour will either amplify or diminish Impact-Player traits. Leaders need to have the courage to give opportunity to employees to have impact. This comes from awareness of the traits, humility, and genuine care.
View or listen to this and other past episodes on the Unleashed Podcast Library
Episode Highlights and Excerpts
In her research, Liz found there are three types of contributors: High impact, typical, and under contributors. This first category she labels Impact Players and notes that they are not necessarily the smartest or most capable employees, but still they provide significantly higher value to the company and to their managers than others.
Liz defines Impact Players as people in organizations who:

Do the job that's needed, not just their defined job or role in the organization. They are like a "heat seeking missile."
Don't wait for direction, but step in and lead, independent of their role in the organization.
Rather than escalating problems, they move things across the finish line.
Lean into and learn and adapt to change.
Are easy to work with and make heavy demands feel lighter for their teammates and managers.

Impact players are always scanning the environment and aligning to the organizational agenda. They link their contributions directly to the needs of the organization at that time.
Those aspiring to be impact players should consider these tactics:

Restate how their contribution to the needs of their manager or the organization.
Raise their hand to lead, even if it's for one meeting or one short-term project. This can be done in a non-threating way with simple words like, "Would it be helpful if I … for the next two weeks?"
Always clarify specifics of any delegation. Ask, "what does a great job look like?" and "what does done look like?"
Continuously take readings from the environment. Look for threats and opportunities for the department or organization, and investigate or act on them. Make micro corrections continuously.
Anticipate the needs of peers and management and try to help make their jobs easier.

The way the manager shows up will determine if people can continue being impact players. Leaders' behavior will either amplify or diminish impact player traits.
Take Your Business to the Next Level
At Results we care about your success, we understand how overwhelming it can feel to run a business, and we're here to help. Reach out to Nicole through our contact form for ways to unleash the potential of your business.
Visit the Unleashed Podcast Library where you'll find exclusive conversations with world-class thought leaders, authors, and leadership experts.
Each episode of Unleashed is hosted by Results' CEO Jeff Tetz who spends most of his day exploring what makes high performers tick and helping build a community of leaders who want to learn and grow together. Follow Jeff (Twitter; LinkedIn; Instagram) for more great leadership insights.
Access the Full Episode Your Way
Click the logo below to subscribe to your favorite platform and never miss another episode recording. Remember to subscribe to your favorite channel and be the first to know when new conversations are available.
Liz Wiseman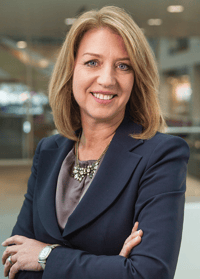 Liz is the CEO of the Wiseman Group, a leadership research and development firm headquartered in Silicon Valley, California. Some of her recent clients include: Apple, AT&T, Disney, Facebook, Google, Microsoft, Nike, Salesforce, Tesla, and Twitter. Liz has been listed on the Thinkers50 ranking and named one of the top 10 leadership thinkers in the world.
She has conducted significant research in the field of leadership and collective intelligence and writes for Harvard Business Review, Fortune, and a variety of other business and leadership journals. A former executive at Oracle Corporation, she worked over the course of 17 years as the Vice President of Oracle University and as the global leader for Human Resource Development.
You can learn more at Liz's website.